RabbitMQ is a message broker that enables applications to communicate with each other and exchange information. It implements AMQP messaging protocol. RabbitMQ is an open-source project that is written by using Erlang programming language.
This tutorial shows how to install RabbitMQ on Ubuntu 22.04.
Install RabbitMQ
Add the Erlang repository:
sudo add-apt-repository -y ppa:rabbitmq/rabbitmq-erlang
Add the RabbitMQ repository:
wget -qO - https://packagecloud.io/install/repositories/rabbitmq/rabbitmq-server/script.deb.sh | sudo bash
Install RabbitMQ:
sudo apt install -y rabbitmq-server
After installation is finished, we can check RabbitMQ server version:
sudo rabbitmq-diagnostics server_version
The following command can be used to determine if RabbitMQ service is running:
sudo service rabbitmq-server status
Also, you can stop, start and restart the RabbitMQ service:
sudo service rabbitmq-server stop
sudo service rabbitmq-server start
sudo service rabbitmq-server restart
RabbitMQ provides a web interface for monitoring and managing RabbitMQ server. It can be enabled with command:
sudo rabbitmq-plugins enable rabbitmq_management
By default, there is guest a user with a default password of guest. Using this user, you can only connect from localhost. To be able to connect from remote hosts, you can create an administrator user that has permissions in / virtual host:
sudo rabbitmqctl add_user admin pwd123
sudo rabbitmqctl set_user_tags admin administrator
sudo rabbitmqctl set_permissions -p / admin ".*" ".*" ".*"
Testing RabbitMQ
Get the IP address of your machine:
hostname -I
By default, web service runs on 15672 port. Open the browser and enter IP address or hostname with port to access the RabbitMQ web interface.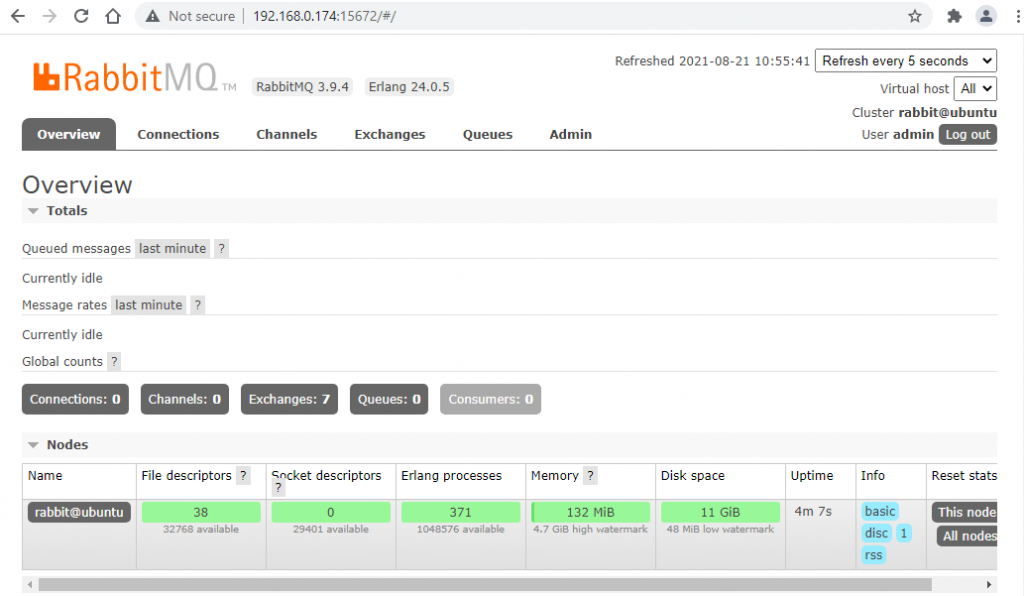 Uninstall RabbitMQ
If you decided to completely remove RabbitMQ and related dependencies, run the following command:
sudo apt purge --autoremove -y rabbitmq-server
Remove GPG key and repository of the Erlang:
sudo rm -rf /etc/apt/trusted.gpg.d/rabbitmq-ubuntu-rabbitmq-erlang.gpg*
sudo rm -rf /etc/apt/sources.list.d/rabbitmq-ubuntu-rabbitmq-erlang-jammy.list
Remove GPG key and repository of the RabbitMQ:
sudo apt-key del 4D206F89
sudo rm -rf /etc/apt/sources.list.d/rabbitmq_rabbitmq-server.list
Remove the RabbitMQ user:
sudo deluser rabbitmq